July 12, 2005
From: Carol Grant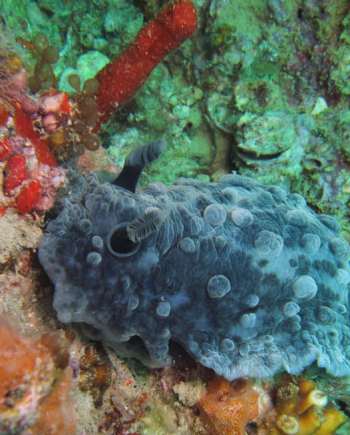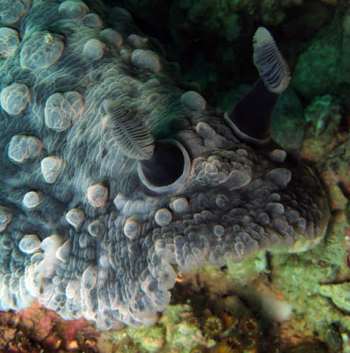 Hi Bill,
Thanks for your reply [#14223 ]  It may not be "the" holy grail for slug guys, but maybe there are a number of "holy grails"???? That said, I bet he would be one. At least the research group that first documented him in 2004 at
Gray's Reef, Georgia, were quite excited!
Here are more pics. The color on these pics is very accurate to what the camera took (and what I saw). Only thing I did with these pics is take away some of the off color cast common to digital photos and I sharpened them. I did not crop or remove scatter as I usually would. I thought you could tell the size of the slug more with everything in tact. Viz was pretty poor, maybe 20 feet, maybe 15. Only used the internal flash so a couple still have lots of green shadow.
Locality: On an artificial reef, 10 miles off the coast of Clearwater,  Florida, USA. 9+ inches long.May 27, 2005, depth 45-55 feet. Photo: Carol Grant

It was definitely eating something, at least it looked like it to me and we have tons of different sponges here, including the encrusting varieties.  As far as size, you know I'm qualified by NOAA to measure fish (we count target species and measure in cm, that was what I was doing when I saw Greg McFall's pics of D. warta in Georgia), anyway so I'm usually pretty accurate on sizes, in cm and inches.  This D. warta off Clearwater was hard though cause he was so "attached over" something, so his body could have even been "stretched out"???  Plus it was hard to get his "width" in the middle for the same reasons.  At the wide part near the front his width was about 4" as I stated and I est his length was over 9", but then I was estimating his length as it cupped over whatever he was "eating" so it is my estimate.  Greg McFall told me the D. warta he photoed and videoed was 6" long.  If you look at the photo of mine you can get an idea of its size because that species of coral polyps there is not a small species, so that can be a guide to D. warta's actual size.
Next time I'll whip out a measure and really get some specs!!!  I wanted to go back out there and find him again, but with the Gulf so stirred up now from the huge seas, then me going out of town it won't be for awhile.  I will give my pics to a charter boat operator here, he can have others look for the nudibranch and hopefully get some more data for you.  We love to prove the people wrong that say "There is nothing to see in the Gulf......."  NOT!!!!!!!!!!!!!!!  :-)
Best,
Carol
caroldive@mac.com
Grant, C., 2005 (Jul 12)
Dendrodoris warta
- more photos.
[Message in] Sea Slug Forum.
Australian Museum, Sydney. Available from http://www.seaslugforum.net/find/14249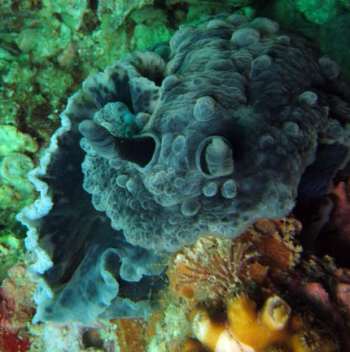 Thanks Carol,
This is a very valuable contribution. Measuring nudibranchs precisely is impossible because their length is very plastic, and can change considerably depending on whether they are resting or crawling. It is clealry one of the 'big' species of Dendrodoris.  Don't feel bad about not photographing its underside - most of us don't. However in your photo alongside I can see a quite mottled pattern, quite similar to that on the dorsum.
Concerning its food, Marcus & Gallagher (1976) report that it was found in the field feeding on an orange sponge boring into oysters and specimens were kept alive in aquaria by adding oysters with the boring sponge. The bright orange faeces produced by the Dendrodoris confirming its choice of food.
Best wishes,
Bill Rudman
Rudman, W.B., 2005 (Jul 12). Comment on
Dendrodoris warta
- more photos by Carol Grant.
[Message in] Sea Slug Forum.
Australian Museum, Sydney. Available from http://www.seaslugforum.net/find/14249
---
Factsheet