July 11, 2005
From: Carol Grant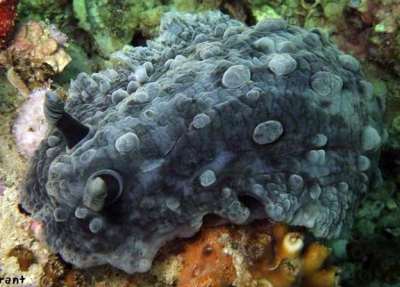 Here is one of the "holy grails" as I understand it for all slug hunters! Not being well versed in inverts myself I sat on these pics for a few weeks till I found out from the research co ordinator at Gray's Reef Nat'l Marine Sanctuary off the Georgia coast [Greg McFall], that what I had pictures of from offshore, Clearwater, Florida, was the elusive warty sea slug (Dendrodoris warta ). There are very few pics of this slug in existence.
Locality: On an artificial reef, 10 miles off the coast of Clearwater,  Florida, USA. 9+ inches long.May 27, 2005, depth 45-55 feet. Photo: Carol Grant

It is a very large nudibranch, this one pictured was 9+ inches long and about 4 inches wide. It appeared to be feeding on something. Found on an artificial reef, 10 miles off the coast of Clearwater, Florida.Dendrodoris warta has previously been spotted at Gray's Reef National Marine Sanctuary, Georgia, and as far as I understand it that is the place it was first photographed and videoed by researchers.
I dive the Gulf off Clearwater a lot but do not recall seeing this fellow on any of my previous dives. It is a very cool thing to behold and could even make a fish-lover like me lean over towards the slug world! Funny enough I found him on my first dive with my new Fuji F810........ I was just glad to find something that didn't move to practice on!! Taken with internal flash, on auto I believe, I was being very timid that day!
Hope you find it as interesting as I do, as I understand the range of this creature is still being documented.
Carol
caroldive@mac.com
Grant, C., 2005 (Jul 11) The Elusive Warty Sea Slug.
[Message in] Sea Slug Forum.
Australian Museum, Sydney. Available from http://www.seaslugforum.net/find/14223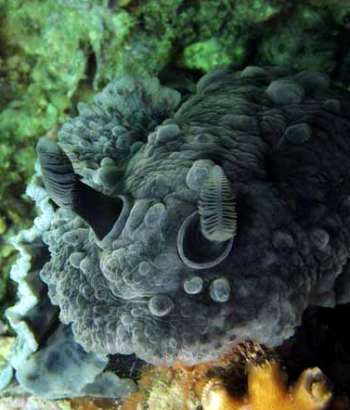 Dear Carol,
This is indeed an interesting find - though 'holy grail' may be a bit extreme. You wouldn't by chance have a photo showing its underside would you? Why I ask is that it is quite similar to too large Indo-West Pacific species, D. carbunculosa and D. tuberculosa, and one simple way to distinguish them is that D. tuberculosa has large white spots on the underside of the mantle. It would be interesting to know if D. warta has spots or not.

We have a record of D. carbunculosa from the Pacific coast of Costa Rica on the Forum [message #2954] and I wondered at the time whether D. warta was the same species, as our knowledge of the living animal was not great. Your photos suggest it is different from both those big Indo_West Pacific dendrodorids, but the rhinophore shape suggests a link
Thanks for thinking of us,
Bill Rudman
Rudman, W.B., 2005 (Jul 11). Comment on The Elusive Warty Sea Slug by Carol Grant .
[Message in] Sea Slug Forum.
Australian Museum, Sydney. Available from http://www.seaslugforum.net/find/14223
---
Factsheet