December 5, 2007
From: David Mullins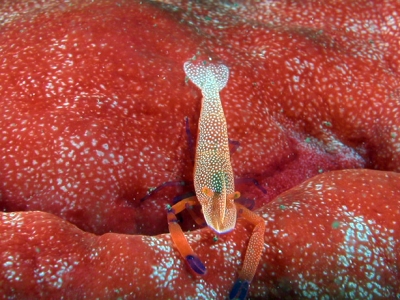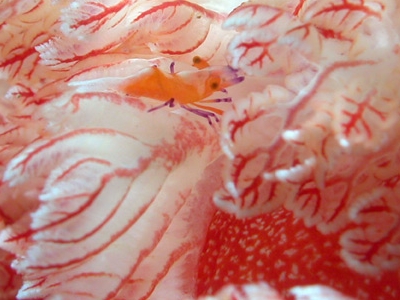 Dear Bill,
I notice that the forum has 2 pages of information on Hexabranchus sanguineus, but how much is enough?
Locality: Old Woman Island (Mudjimba Is.), Maroochydore,, 14 metres, Queensland, Australia, Pacific Ocean, 9 June 2007, Rocky reef. Length: 140 mm. Photographer: David Mullins.
The following pics show a specimen of Hexabranchus sanguineus hosting 2 very different species of "commensal" shrimp on its mantle and gills and appears in no way irritated by their presence. The crustacean on the gills [middle photo] appears to be a type of hinge-beak or perhaps humpback shrimp which I have not seen before.

I believe the shrimp on the mantle is Periclimenes imperator which is well known in this role on Dorids. It has managed to affect the colour and stippling of its slug host upon its body,one of its 2nd chelipeds and even the eye stalks.

My patience in focusing on the gills [lower photo] was "rewarded" quite unexpectedly with this scatological moment. Perhaps it was this close and constant attention that induced "the deed". Some observers have reported that the shrimp feed upon these fecal pellets and what appears to be remnants of one can be seen around the tail and anterior end of P. imperator.
Thanks Bill.
Kind regards,
David Mullins.
david@nudibranch.com.au
Mullins, D.A., 2007 (Dec 5) The secret life on
Hexabranchus sanguineus
.
[Message in] Sea Slug Forum.
Australian Museum, Sydney. Available from http://www.seaslugforum.net/find/21256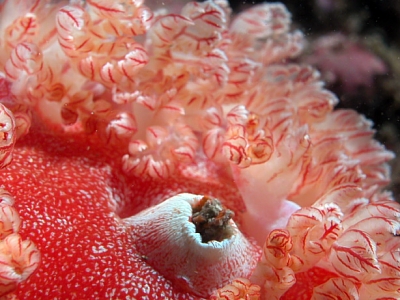 Dear David,
I haven't felt the need yet to say 'no more' for any species.
I am surprised at how few photos we have on the Forum of Periclimenes on Hexabranchus but if you do a search for Periclimenes on the Forum you will find lots of photos of it associated with other opisthobranchs. I am pretty sure the shrimp on the gills is a juvenile of Periclimenes imperator. The white-spotted colour form of your larger animal is not the usual colour form of this species which usually has a white band down the back and a wider white collar just behind the 'head' [see photo on Symbiosis Fact Sheet]. The white spots are usually present on the posterior end of the body. If you look carefully at the gill-dwelling animal you can see a faint whitish collar behind the head.
Faecal pellets can be a useful indicator of food specificity, and  from the orange bits I can see in your photo I suspect it has been eating an orange sponge. JUst knowing the colour of its food is not enough but if you found an animal producing faecal pellets with orange bits and it was sitting on an orange sponge, or surrounded by an orange sponge it would be a valuable clue. In sponges that have siliceous spicules, finding large numbers of thsoe spicules in the faecal pellets is also a valuable clue, but sponge spicules are scattered all over the sea bottom, so finding an identifying a few sponge spicules from an slug's stomach may be misleading and just indicate that they don't wash their food before eating it.
Best wishes,
Bill Rudman
Rudman, W.B., 2007 (Dec 5). Comment on The secret life on
Hexabranchus sanguineus
by David Mullins.
[Message in] Sea Slug Forum.
Australian Museum, Sydney. Available from http://www.seaslugforum.net/find/21256
---
Factsheet