November 18, 2002
From: Shawn Elston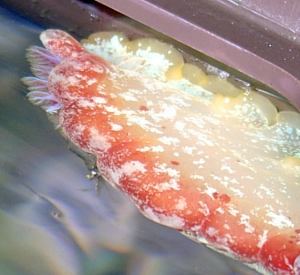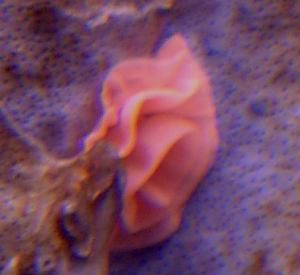 I purchased a Spanish Dancer from a local pet shop in Hawaii not knowing too much about it. I have had it for a few days it seem to be doing fine. It has laid eggs on one of the corals. I do not want to disturb the eggs although I do not want to have them die after hatching. All that I have read up to now mainly states that the Hexabranchus sanguineus ( Which I believe I have) eats only sponges which I due not have in the tank and have not found in any stores to buy although some do carry them but are out of stock. I am a novice aquariist and care very much for the fish I have. Please inform me of what I should do. The Spanish Dancer is a lite red color/pink with some white, about 4-6inches long has, 4-5 sets of gills that i have counted it swims in the wave like motion.
Thanks for any help you can give.
Shawn Elston
sluff37072@aol.com
Dear Shawn,
Sorry but I can't give you good news. The biggest problem is that aquarium/pet shops should NOT stock nudibranchs unless they know precisely what the species they have eats, and have a ready supply of the food available. Imagine the outcry if they could not provide the right food for all the fish they sell. By stocking nudibranchs and selling them to customers, they are essentially condemning them to starvation and death. They are also ripping off their customers as well by selling you animals they know will die.
Have a look at some of the earlier messages on Hexabranchus, which are attached below yours on the Hexabranchus page [see also Page 2]. You will see they do eat a variety of sponges, but even if you went out on a reef and collected some sponges yourself, there is no easy way for you to identify if any of the sponges you have found are ones that the nudibranch eats. There would also be the difficult job of getting the sponges back to your aquarium alive and healthy, and then the job of keeping them alive in your aquarium while they are being eaten. Concerning the egg mass. Laying eggs is not necessarily a sign of well-being, in fact often it seems to be a sign of stress. Will the eggs hatch? Sometimes, especially when stressed, the eggs are infertile. Even if fertile, Hexabranchus produces free-swimming planktonic veliger larvae, which need to swim for some time in the plankton, feeding on microscopic plants. Such veligers rarely survive in normal aquarum setups. And since the larvae settle on their food when they are ready to become slugs, we are back to the food problem.
Sorry I can't give you better news,
Bill Rudman
Rudman, W.B., 2002 (Nov 18). Comment on Spanish Dancer - What can we feed it? by Shawn Elston.
[Message in] Sea Slug Forum.
Australian Museum, Sydney. Available from http://www.seaslugforum.net/find/8442
---
Factsheet