March 15, 2010
From: Leanne and David Atkinson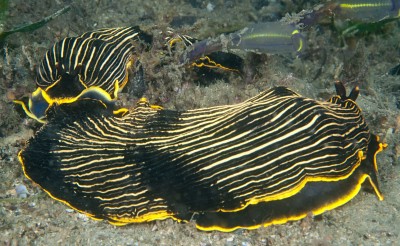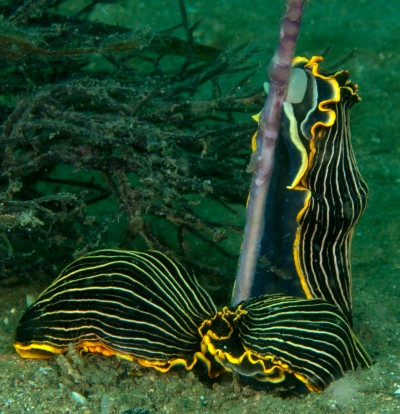 Concerning message #23267:
Hi Bill,
Here are some photos of a species of Armina eating Sea Pens [see messages #23326, #23327]. I have included some more of this species in a second message [#23329]. We find these ones quite regularly of a day time over the past 12 months at The Pipeline. Sometimes they are actively feeding as in the pictures and sometimes they are partly buried often near the skeleton of a Sea Pen. Could you please identify them for us? We found them on p117 in Neville Coleman's Nudibranchs Encyclopaedia as Armina magna described by Baba in 1955. Then the next photo still says Armina magna but " Appears undescribed" . There seems to be a small publication error. When we tried to check it on the forum you don't seem to have this one listed. Is there an Armina magna described by Baba and is this it?
Locality: The Pipeline, Nelson Bay, Port Stephens, 8 metres, New South Wales, Australia, Pacific Ocean, 21 January 2010, Sandy silty bottom with sea pens, sponges, ascidians, gorgonias, soft corals, hydroids and seaweed. Length: approximately 120 mm. Photographer: Leanne and David Atkinson.
Hope these are of interest.

Yours sincerely,
Leanne & David Atkinson

atk@hunterlink.net.au
Atkinson, L. & D., 2010 (Mar 15)
Armina magna
? from Port Stephens, N.S.W. [1].
[Message in] Sea Slug Forum.
Australian Museum, Sydney. Available from http://www.seaslugforum.net/find/23328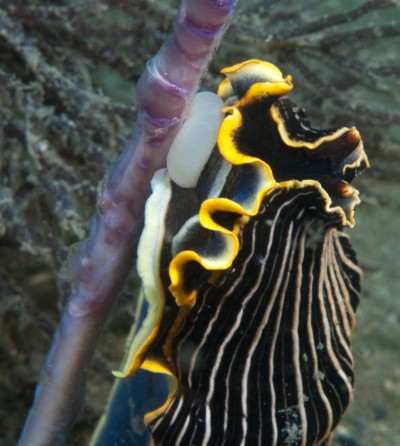 Dear Leanne and David,
Thanks for another interesting contribution . All that is left of the Sea Pen is the colony's horny internal rod-like skeleton.
Concerning its identity. There are many species of Armina from the Indo-West Pacific which need revising. Many are black with ligher coloured ridges and orange or yellow borders. Baba did describe a similarly coloured species as Armina magna but as there are many similarly coloured species I think it is confusing to positively identify one of them as A. magna until we have anatomical information on all, or at least many. of these different species. In fact in the same 1955 publication, Baba describes another new species Armina papillata which could well be the species you reported from Port Stephens some time ago and I am calling Armina sp. 9 [see message #13514]. I think I will take the cautious approach and name your animal Armina sp. 10. It's not as satisfying as ticking off another name on the list but may prove to be less confusing.

Which leads me to another Port Stephens species which you have found which I have tentatively identified as Armina cygnea. You reported on its interesting egg laying behaviour [message #2] and Janalie Besoff on it feeding on a soft coral [message #4]. I think this is a different species again - note the white lines on the oral veil, but only further studies will show just what the situation is. Since it is feeding on a soft coral it would be nice to get photo of its underside to see whether it is a species of Armina or an oversized Dermatobranchus.
I can't finish this message without drawing attention to the message numbers on the Armina cygnea messages. They refer to the 2nd and 4th messages ever posted on the Forum 12 years ago. We are now up to 23,000! Thanks for your support and contributions over this period.
BABA, K. 1955. Opisthobranchia of Sagami Bay Supplement, 59 pp., 20 pls. Iwanami Shoten, Tokyo.
Best wishes,
Bill Rudman
Rudman, W.B., 2010 (Mar 15). Comment on
Armina magna
? from Port Stephens, N.S.W. [1] by Leanne and David Atkinson.
[Message in] Sea Slug Forum.
Australian Museum, Sydney. Available from http://www.seaslugforum.net/find/23328
---
Factsheet