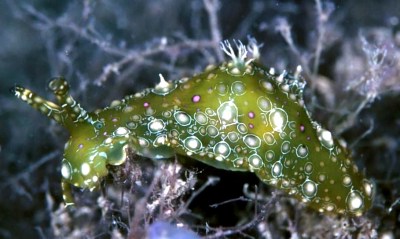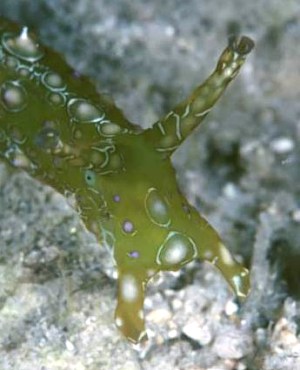 Petalifera ramosa
Baba, 1959
Order: ANASPIDEA
Superfamily: APLYSIOIDEA
Family: Aplysiidae

DISTRIBUTION
Western Pacific and possibly Indian Ocean. Atlantic [Caribbean, and Canary Ids?].
PHOTO
Fly Point, Port Stephens, New South Wales, Australia. In weed in about 5-8 metres on 21 Nov 1999.[5-8cm long] PHOTO: Ron Greer.
This species is characterised by the firm conical tubercles scattered over the body. The smaller ones are often pink with a darker basal ring and the larger ones are a pale brownish white with a dark brown basal ring and often with an outer white ring. Some of the larger tubercles have a terminal papilla which often has long filamentous branches. Baba reports animals growing to between 5-7cm long. It can swim, when disturbed, by dorsoventral flexion of the body.
See Phyllaplysia sp. 1. for a discussion on Petalifera and Phyllaplysia.
Reference: Baba, K. (1959) The genus Petalifera and a new species, P. ramosa, from Japan. Publications of the Seto marine Biological Laboratory, 7(3): 43-44.
• Marcus, Ev. & Er. Marcus. 1962. Opisthobranchs from Florida and the Virgin Islands. Bulletin of Marine Science of the Gulf and Caribbean, 12(3): 450-488.
• Marcus, Ev. 1976. Opisthobranchia von Santa Marta, Colombia. Studies on Neotropical Fauna and Environment, 11: 119-150.
• Thompson, T. E. 1977. Jamaican Opisthobranch Molluscs I. Journal of Molluscan Studies, 43: 93-140.
• Ortea, J. & E. Martínez. 1991. El orden Anaspidea (Mollusca: Opisthobranchia) en las Islas Canarias. Revista de la Academia Canaria de Ciencias, 3(4): 87-107.
• Martínez, E. & J. Ortea. 1992. Primeros datos sobre el orden Anaspidea (Mollusca: Opisthobranchia) en la Isla de Cuba. Revista de Biología de la Universidad de Oviedo 9-10: 95-111.
• Redfern, C. 2001. Bahamian Seashells: a Thousand Species from Abaco, Bahamas.
Note added 19 May 2000: - original images replaced with better coloured slides - see message below.
Authorship details
Rudman, W.B., 1999 (December 2)
Petalifera ramosa
Baba, 1959.
[In] Sea Slug Forum.
Australian Museum, Sydney. Available from http://www.seaslugforum.net/factsheet/petaramo