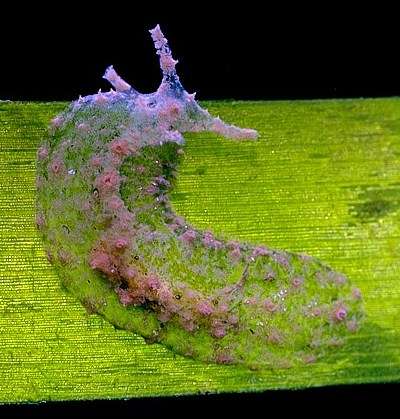 Phyllaplysia spp.

Order: ANASPIDEA
Superfamily: APLYSIOIDEA
Family: Aplysiidae

DISTRIBUTION
Indo-West Pacific.
PHOTO
Koumac Beach (=Baie de Ouanap), near Koumac, New Caledonia, 20°34'S, 164°16'E, Mixed soft and hard substrate, grassbeds, algae,
UPPER RIGHT: 13 October 1993, 16mm long alive.
LOWER LEFT: 10 October 1993, 15, 23mm long alive.
LOWER RIGHT: 13 October 1993, 16mm long alive. PHOTOS: Bill Rudman.
These small cryptic, flattened aplysiids are quite common in tropical and sometimes temeperate waters living on the flattened leaves of marine plants. How many species and genera there are has been the subject of a lengthy, and uninformative debate in the scientific literature.
There are two morphologically similar genera, Phyllaplysia and Petalifera. Bebbington (1972) states that the two genera are often confused but can usually be distinguished by the absence of a shell in adult Phyllaplysia. However in the same paragraph he cites Beeman (1968) who considers the presence and absence of a shell is not a useful character. The following authors have contributed to, but unfortunately not yet clarified, the debate: Engel, 1936., Eales, 1944, 1960a,b., Baba, 1959c., Marcus, 1972., Beeman, 1970., Bebbington, 1972, 1974, 1977. Within the `Petalifera petalifera' species group, Engel considered there to be one worldwide species which could be separated into many geographic races or subspecies. Baba (1959c), without discussion, decided there were at least four species in Japanese waters, and subsequently some authors have proposed more new species while others have recognised a single circumtropical species, P. petalifera (Rang, 1828). Very few of these studies are based on more than a few specimens.
One species which is easily separable is Petalifera ramosus. All other 'species' seem to be flattened and cryptic like the animals illustrated here.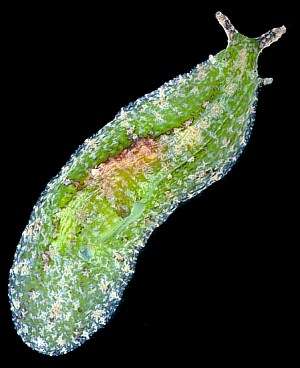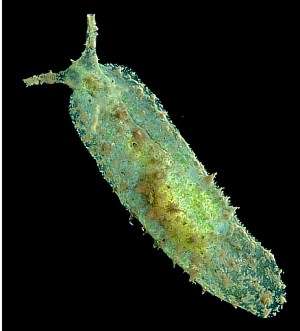 Authorship details
Rudman, W.B., 2000 (February 16)
Phyllaplysia spp.
[In] Sea Slug Forum.
Australian Museum, Sydney. Available from http://www.seaslugforum.net/factsheet/phyllaply