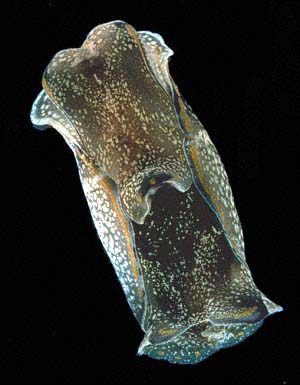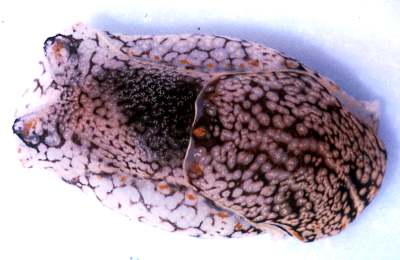 Philinopsis taronga
(Allan, 1933)
Order: CEPHALASPIDEA
Family: Aglajidae

DISTRIBUTION
South-eastern Australia [New South Wales, Victoria] and northern New Zealand.
PHOTO
Upper: Shelly Beach, Manly, Sydney, 2-3m, September 1982. Maximum length about 50mm. PHOTO: Bill Rudman.
Lower: in mud at low water, Ngataringa Bay, Waitemata Harbour, Auckland, New Zealand. March 1963. Photo: M.C. Miller.
The body is brown or blackish with scattered translucent whitish spots. There is considerable variation in colour pattern. In some animals the ranslucent spots have a central patch of opaque cream white or milky yellow, and sometimes the translucent spots can dominate the colour pattern reducing the brown background to a brown reticulation. There is a submarginal orange line, sometimes broken into spots, on the parapodia, and traces of a similar line along the edge of the posterior shield. There an also be a short orange line on the anterior sides of the head shield, and a few orange spots arranged symmetrically in the anterior midline of the head shield. There is usually a median white, or transluvent white line, or traces of such a line, running from the front of the headshield back along the midline of the head shield for some distance. The posterior edge of the headshield forms a raised pointd crest which has a central dark brown or black patch bearing a central orange spot.
This species has a "typical" foregut with a large partially eversible buccal bulb. (See Philinopsis cyanea and Philinopsis gardineri for discussion). It feeds on a wide variety of bubble shells, including Bulla and Haminoea in Australia and in New Zealand, Haminoea zelandiae, Philine auriformis, Melanochlamys cylindrica and the olive shell Baryspira. See message below discussing New Zealand colour form previously known as P. aureopunctata.
References:
• Burn, R.F. (1966): Some opisthobranchs from southern Queensland. J. Mal. Soc. Aust., 1: 96-109.
• Burn, R.F. (1969): A memorial report on the Tom Crawford collection of Victorian Opisthobranchia. J. Mal. Soc. Aust., 12: 64-106. (pl.4)
• Rudman, W.B. (1968) Three new species of the opisthobranch family Aglajidae from New Zealand. Transactions of the Royal Society of New Zealand (Zoology), 10(23): 211-216.
• Rudman,W.B., (1972). A comparative study of the genus Philinopsis Pease, 1860 (Aglajidae, Opisthobranchia). Pacific Science, 26: 381-399.
• Rudman,W.B., (1972). Structure and functioning of the gut in the Bullomorpha (Opisthobranchia). Journal of Natural History, 6: 547-560.
Authorship details
Rudman, W.B., 1998 (October 14)
Philinopsis taronga
(Allan, 1933).
[In] Sea Slug Forum.
Australian Museum, Sydney. Available from http://www.seaslugforum.net/factsheet/philtaro