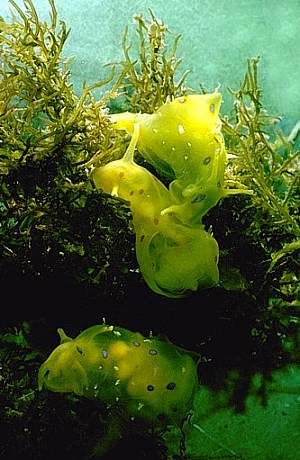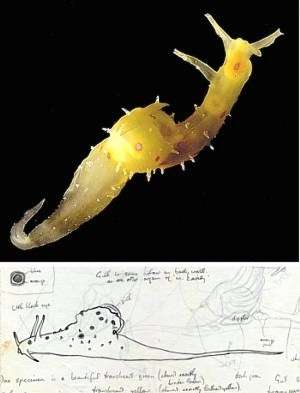 Stylocheilus longicauda
(Quoy & Gaimard, 1825)
Order: ANASPIDEA
Superfamily: APLYSIOIDEA
Family: Aplysiidae

DISTRIBUTION
Circumtropical on floating algae and flotsam.
PHOTO
Many animals washed up on algae, Kunduchi Beach, Dar es Salaam, Tanzania. Most in 35-40mm size range but some up to 60mm long. April 1976. Drawing from Tanzanian fieldnotes (January 25 1976)of another specimen showing extremely long slender tail. PHOTOS & DRAWING: Bill Rudman.
In recent years this often yellow species of Stylocheilus has been identified as Stylocheilus citrina (Rang, 1828) (Marcus, E. & Marcus, E., 1962; Marcus, E., 1972). It has a circumtropical distribution and is usually found floating in the open ocean on drifting brown algae. On two occasions I found numbers of animals washed ashore in Tanzania, on drift algae. The body ranges in colour from bright yellow to bright green with scattered ocellate spots. In specimens I have examined, the spots are usually blue, often with a reddish edge. Surrounding the spot is a clear ring then a ring of orange. In some specimens the red edge dominates and the blue spots appear red. White and blue spots without a surrounding ring can also occur. There a scattered short papillae over the body. The body is very elongate and its most characteristic feature is the extremely prolonged narrow 'tail' which can make up to half the body's total length. The sole produces a very sticky mucus. This elongation of the posterior foot, and the sticky mucus, are probably an adaptation to life on floating weed.
There is an important nomenclatural problem surrounding this species. Although the name Stylocheilus citrina Rang, refers to it, the earliest name for it must surely be Stylocheilus longicauda (Quoy & Gaimard, 1825), which is at present used incorrectly for the common species with dark longitudinal lines down the body and a relatively short 'tail'.
See separate page for discussion of the nomenclatural problems
See separate page for relevant references.
See Stylocheilus striatus
Authorship details
Rudman, W.B., 1999 (August 5)
Stylocheilus longicauda
(Quoy & Gaimard, 1825).
[In] Sea Slug Forum.
Australian Museum, Sydney. Available from http://www.seaslugforum.net/factsheet/stylcaud