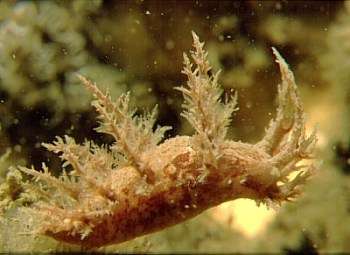 Dendronotus frondosus
(Ascanius, 1774)
Order: NUDIBRANCHIA
Suborder: DENDRONOTINA
Family: Dendronotidae

DISTRIBUTION
Boreo-Arctic. In North Atlantic as far south as France (on European coast), and New Jersey (in North America). In North Pacific as far south as Los Angeles, California.
PHOTO
Zeelandbrug, Zierikzee, Oosterschelde, The Netherlands, 20 May 1999. PHOTO: Peter H. van Bragt.
Grows to about 100mm. Juvenile animals feed on calyptoblastic hydroids such as Sertularia cupressina & Dynamena pumila while adults feed on the gymnoblastic hydroids of the genus Tubularia. The quite unrelated Indo-West Pacific aeolid Pteraeolidia ianthina has an identical change in diet from small colonial calyptoblastic hydroids to larger gymnoblastic tubularians.
Taxonomically confused 'species'. Robilliard (1975) discusses the probability of at least 4 ecologically distinct species in NE Pacific.
Reference:
• Thompson, T.E. & Brown, G.H. (1984) Biology of Opisthobranch Molluscs, Vol 2. Ray Society: London.
• Robilliard, G.A. (1970) The systematics and some aspects of the ecology of the genus Dendronotus (Gastropoda: Nudibranchia). The Veliger, 12(4): 433-479.
• Robilliard, G. A. 1975. The nudibranch Dendronotus frondosus - one species or four? The Festivus (San Diego Shell Club), 6(8): 44-47.