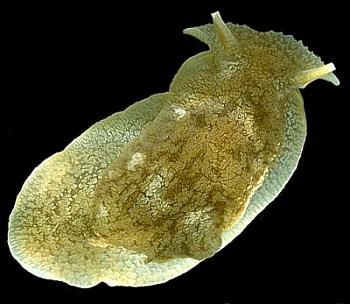 Pleurobranchaea maculata
(Quoy & Gaimard, 1832)
Order: NOTASPIDEA
Superfamily: PLEUROBRANCHOIDEA
Family: Pleurobranchidae

DISTRIBUTION
Southeastern Australia & New Zealand from the intertidal to 300m. Records from elsewhere (Japan, China, Sri Lanka) need confirmation.
PHOTO
Kurnell, Botany Bay, Sydney, New South Wales, Australia, November 1982. PHOTO: Bill Rudman.
Species of Pleurobranchaea are medium to large pleurobranchs, with a large oral veil and a reduced mantle skirt. There is no shell. Like most species of the genus Pleurobranchaea maculata has a mottled colour pattern of various shades of brown and cream. It grows to more than 10cm long.
The feeding biology of Pleurobranchaea maculata has been extensively studied in New Zealand and reviewed by Willan (1984). All studies suggest their natural diet is sea anemones including Actinia tenebrosa, Isactinia olivacea and Anthothoe albocincta. In one laboratory study a 90mm animal ate 100 Actinia tenebrosa in 3.5 days (Ottway, 1977) leading the researcher to suggest that Pleurobranchaea may be restricting the anemone to the intertidal zone through predation pressure.
All species of the genus that have been studied, are opportunistic carnivores, voracious feeders that actively forage for food. Live food is preferred and in nature consists of a wide variety of animals but seem to prefer sea anemones. They are reported to be cannibalistic at times, and in captivity easily adapt to a variety of 'convenience' foods such as chopped squid, fish pieces etc.
References.
• Ottaway, J.R. (1977). Predators of sea anemones. Tuatara, 22: 213-221.
• Ottaway, J.R. (1977). Pleurobranchaea novaezelandiae preying on Actinia tenebrosa. New Zealand Journal of Marine and Freshwater Research, 11: 125-130.
• Quoy, J.R. & Gaimard, J.P. (1832). Voyage de decouvertes de L'Astrolabe pendant les annees 1826-1827-1828-1829, sous le commandement de M.J. Dumont D'Urville, Zoologie, 2: 1-686.
• Willan,RC (1983): New Zealand side-gilled sea slugs (Opisthobranchia: Notaspidea: Pleurobranchidae). Malacologia 23(2), 221-270.
• Willan,RC (1984): A review of diets in the Notaspidea (Mollusca: Opisthobranchia). J. Mal. Soc. Aust. 6(3-4), 125-142.
• Willan,RC (1987): Phylogenetic systematics of the Notaspidea (Opisthobranchia) with reappraisal of families and genera. Am. Malacol. Union Bull. 5(2), 215-241.
Authorship details
Rudman, W.B., 1999 (July 28)
Pleurobranchaea maculata
(Quoy & Gaimard, 1832).
[In] Sea Slug Forum.
Australian Museum, Sydney. Available from http://www.seaslugforum.net/factsheet/pleumacu