June 16, 2006
From: Angel Valdes
Concerning message #16797:
Dear Bill and Marina,
Looking at the photos of this animal from Senegal I noticed something that is not quite right. Okenia zoobotryon has a characteristic hump in front of the gill, and the dorso-lateral papillae are wider at the apex, with spherical tips. I believe the specimen from Senegal is the rare species Okenia polycerelloides (Ortea & Bouchet, 1983) originally described from the Canary Islands in the genus Bermudella.
Ortea, J.A. & Bouchet, P. 1983. Un nuevo Goniodoridae (Mollusca: Nudibranchiata) de las Islas Canarias. Vieraea, 12: 49-54.
Best regards,
Angel
avaldes@nhm.org
Valdes, A., 2006 (Jun 16) Re: Radula of Senegalese
Okenia zoobotryon
.
[Message in] Sea Slug Forum.
Australian Museum, Sydney. Available from http://www.seaslugforum.net/find/16883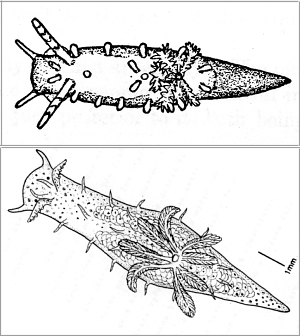 Dear Angel,
I suspect Okenia zoobotryon is going to haunt me forever. I have certainly puzzled over the median hump in front of the gills which you and others have described (Valdes & Ortea, 1995; Clark, 1984, Redfern - message #12421). That is why I have been hesitant to identify Australian animals [message #12656] and Marina's Senegalese animals as O. zoobotryon, because, as you point out, they lack this median hump. However, Smallwood's original description of O. zoobotryon gives a very detailed description of the external features, including a detailed positioning of all the papillae, and his animals did not have this median dorsal hump, which makes me wonder if the 'humped' species is not O. zoobotryon. In most features Smallwood's species is identical to Ortea & Bouchet's Bermudella polycerelloides. In fact the only difference Ortea & Bouchet note is that their new species has the usual one lateral radular tooth on each side, while Smallwood described three in  O. zoobotryon.   Clark 'corrected' Smallwood's apparent mistake, but if his animal is not Smallwood's  O. zoobotryon we are still somewhat in the dark. However since Ortea & Bouchet's animal, and Marina's, fit Smallwood's original description I think we can be reasonably confident in saying that Smallwood's radula description is incorrect. This means there is no difference between O. zoobotryon and O. polycerelloides.
FIGURES: Upper right: Polycerella zoobotryon Smallwood, 1919: Fig 10. Lower right: Bermudella polycerelloides Ortea & Bouchet, 1983: Fig. 1A. [scans from original descriptions].
If my argument is correct, then it means that the Okenia with a median hump is unnamed. One other species synonymised with Okenia zoobotryon by Clark, which might have been available as a replacement name, is O. evelinae Marcus, 1957, but as I have shown before on the Forum [message #12043], that it is quite a different species.

I thought at one stage that the Australian O. mija might be this species - a wordwide tramp species - but it doesn't have a convincing median hump and the cup-shaped lamellae on the rhinophores have a median notch. It's unfortunate that the two names O. zoobotryon and O. polycerelloides can't be used for the two species, but as luck would have it I think they both apply to the same species. The error seems to have arisen from Clark's revision.
Clark, K. B. (1984) New records and synonymies of Bermuda opisthobranchs (Gastropoda). The Nautilus, 98(2): 85-97.

Redfern. C., (2001) Bahamian Seashells: a Thousand Species from Abaco, Bahamas. Bahamianseashells.com Inc: Boca Raton. 1-280.

Rudman, W.B. (2004) Further species of the opisthobranch genus Okenia (Nudibranchia: Goniodorididae) from the Indo-West Pacific. Zootaxa, 695: 1-70.

Smallwood, W.M. (1910). Notes on the Hydroids and Nudibranchs of Bermuda. Proc. Zool. Soc. London. 1: 137-145

Smallwood, W. M. (1913) Polycerella zoobotryon (Smallwood). Proceedings of the American Academy of Arts & Sciences, 47(16): 609-630.

Valdes, A. & Ortea, J. (1995) Revised taxonomy of some species of the genus Okenia Menke, 1830 (Mollusca: Nudibranchia) from the Atlantic Ocean, with the description of a new species. The Veliger, 38(3): 223-234.
Let me know what you think
Best wishes,
Bill Rudman
Rudman, W.B., 2006 (Jun 16). Comment on Re: Radula of Senegalese
Okenia zoobotryon
by Angel Valdes.
[Message in] Sea Slug Forum.
Australian Museum, Sydney. Available from http://www.seaslugforum.net/find/16883
---
Factsheet