June 19, 2006
From: Marina Ossokine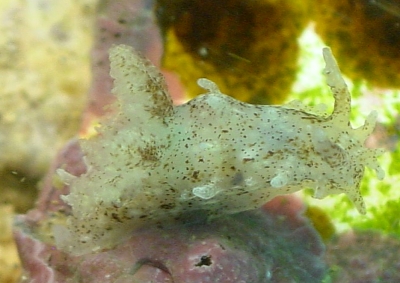 Concerning message #16883:
Dear Angel (and Bill),
Thank you to pay attention to these specimens and to comment on them.
I don't know what kind of 'hump' you are talking about, but looking closely at the many photos I have of this species, it seems they do have a lump on the back just in front of the gills. This lump is more or less visible depending on how the photos were taken.
Here are 2 shots (amongst others I have) which show it clearly.
Locality: 'Terou baye Sogui', Dakar, 4m, Senegal , Atlantic Ocean, 6 June & 30 May 2005 . Length: (3) : 10mm / (4) : 10mm . Photographer: Marina Poddubetskaia Ossokine.
Also, I think Bill aroused here a very interesting discussion. I think this kind of discussion is one of the best parts of the Forum.
All the best,
Marina.
Nembro website
nembro@nembro.info
Poddubetskaia Ossokine, M., 2006 (Jun 19) Re: Radula of Senegalese
Okenia zoobotryon
[3].
[Message in] Sea Slug Forum.
Australian Museum, Sydney. Available from http://www.seaslugforum.net/find/16891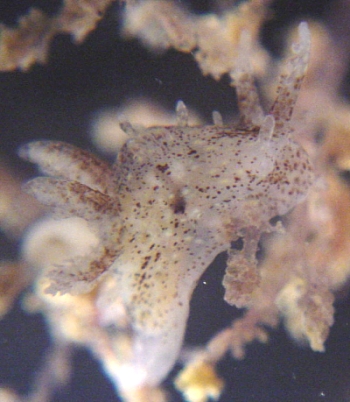 Dear Marina,
Thanks for these photos. They do seem to show the 'hump' we were talking about, which is a bit of a problem, because I thought from your other photos that you had the 'humpless' animal. The 'hump' is right over the heart and pericardial cavity, so perhaps the variation is the result of some swelling in the pericardium - perhaps through salinity changes? If so, we could be looking at some temporary physiological change rather than a genetic species-level morphological difference. One way to check this would be to collect a few specimens and keep them in a container for a few days and see if they develop or lose a swelling in front of the gills. Adding a little freshwater to the container would certainly be one way of changing  the physiological conditions. Mind you, it would involve another trip to Senegal.

I am glad you enjoy these discussions. They are a good way of showing how we attempt to solve problems, and why taxonomists are usually cautious in naming 'new species' even when it seems blindingly obvious. The first step is to try and make sure the species has not been named before - and unfortunately that can sometimes be quite difficult, because in earlier times, new species descriptions were often very short of detail. The second major problem is deciding whether the animal you are looking at is indeed a new species or whether it is just a variation of an existing one. In this case we have a couple of names to use, but we can't be sure if we have two species or one.
Best wishes,
Bill Rudman
Rudman, W.B., 2006 (Jun 19). Comment on Re: Radula of Senegalese
Okenia zoobotryon
[3] by Marina Ossokine.
[Message in] Sea Slug Forum.
Australian Museum, Sydney. Available from http://www.seaslugforum.net/find/16891
---
Factsheet