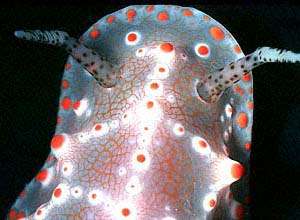 Halgerda batangas
Carlson & Hoff, 2000
Order: NUDIBRANCHIA
Suborder: DORIDINA
Family: Dorididae

DISTRIBUTION
Tropical Western Pacific.
PHOTO
UPPER: Housereef, Lipayo, Negros Is., Philippines, November 1998. PHOTO: Erwin Koehler.
LOWER: 40mm, Philippines, Batangas, Anilao,
12m, 22 April 1998. Collected by Debbie Fugitt. PHOTO: Clay Carlson.
One of a group of white species of Halgerda with orange markings. This species is characterised by tubercles with an orange-red tip and a mantle colour pattern consisting of a network of solid red-orange lines. There is a white band around the mantle edge containing low rounded orange-capped tubercles. The mantle tubercles range in size from low rounded bumps to tall prominent structures. The small tubercles have an orange-red tip and a basal ring of white. The large tubercles are tipped wih orange-red and have a broad subterminal white band. Beneath the white band the sides of the large tubercles have the reticulate pattern found on the mantle.
There are three species of Halgerda with a network of orange lines. In H. malesso the network of lines sometimes fuse to form orange patches in the depressions, there are multiple fine orange lines around the mantle edge, and the fairly high tubercles are capped with orange. In Halgerda batangas, which also has a network of orange lines, the ridges and tubercles are low and rounded. The tubercles are capped with orange-red and have a basal ring of white. The edge of the mantle is white with orange-red tubercles. The foot is edged with orange. The third species with an orange network is Halgerda terramtuentis. It has golden orange lines and the tubercles are capped with white.
Other similar coloured species include Halgerda carlsoni and Halgerda aurantiomaculata.
Reference:
• Bertsch, H. & Johnson, S. (1982) Three new species of dorid nudibranchs (Gastropoda: Opisthobranchia) from the Hawaiian Islands. The Veliger, 24(3): 208-218.
• Carlson, C.H. & Hoff, P.J. (1993) Three new Halgerda species (Doridoidea: Nudibranchia: Opisthobranchia) from Guam. The Veliger, 36(1): 16-26.
• Carlson, C.H. & Hoff, P.J. (2000) Three new Pacific species of Halgerda (Opisthobranchia: : Nudibranchia: Doridoidea). The Veliger, 43(2): 154-163.
See Clay Carlson's February 5, 1999 message comparing this species with H. malesso.
Note: Until 25 June 2000, this species was Halgerda sp. 1 on the Forum
Authorship details
Rudman, W.B., 1999 (February 3)
Halgerda batangas
Carlson & Hoff, 2000.
[In] Sea Slug Forum.
Australian Museum, Sydney. Available from http://www.seaslugforum.net/factsheet/halgbata