August 3, 2003
From: Paul Furneaux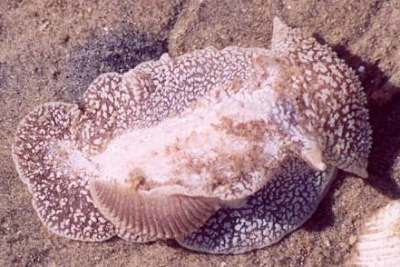 Dear Bill,
Here are some observations and photos of Pleurobranchaea maculata that I've made recently [14th to 18th July], when it was cold but clear and calm and just great for wandering over the harbour flats here in Tauranga, New Zealand.
I've noticed some unusual (to me) aspects about its behaviour. Since first reporting finding this species here in May I have regularly observed between 5 and 15 individuals (occasionally up to 25) each time that I visit the flats and this is in a fairly large area, about the size of 3 rugby fields, that is covered in Zostera and Ulva, and about 50 to 60m from the low tide mark. During this last week I have come across several individuals that appear to have suffered predator damage, but still seem able to keep going. The predator damage may have been caused by whelks – Cominella glandiformis, C. adspersa, and C. maculosa - all occur on these flats and in one instance I observed several C. glandiformis feeding on a dead Pleurobranchaea but have not seen this happen to a live animal. However, today (22 July 2003) I observed a cushion star, Asterina regularis, feeding on a live Pleurobranchaea, on the notum area. The Pleurobranchaea was definitely still alive and moved off after I separated the two animals. I'm wondering if the lower temperatures at the moment (we have had some good frosts on land lately) have slowed down these animals so that they are unable to escape the attention of the likes of Cominella or Asterina. I've included some photos to show this damage. The damaged animals also exhibited an interesting response when touched which I had not seen with undamaged animals.
The "routine" included protruding the mouth region and arching the body so that the anterior and posterior ends came upwards and almost met in the middle, a defensive reaction of some sort I suppose? Another interesting feature of their behaviour is a tendency to move in an inverted position as though they are able to cling to the surface- tension of the water's surface, photos of both of these features included.
I have a question regarding the egg mass of Pleurobranchaea maculata. I could not find any description of its egg mass on the Forum but I believe that I've seen it attached to Ulva and Zostera in this area. It is white in colour, about 5mm to 10mm in diameter, and some 10 to 20 cm long, sometimes coiled back on itself and sometimes not. I should be able to photograph it over the next few days but have no shots of this to send you as yet. Every visit to these flats seems to turn up something new or interesting, I'm currently recording the breeding activities of a group (approx 100 individuals) of Aplysia juliana and will send you some photos soon.
P.S. My "old friend" Philinopsis taronga is still around [July 2003]although its numbers have decreased and it is moving much more slowly in these colder winter temperatures. Its egg masses are still evident and I usually note around 3 to 5 individual animals on each visit, in the same area that I first came across them.

Regards,
Paul Furneaux
P.Furneaux@xtra.co.nz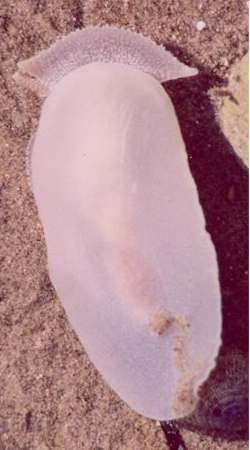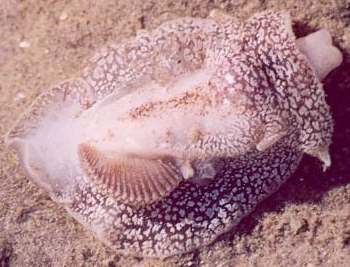 Furneaux, P., 2003 (Aug 3)
Pleurobranchaea maculata
from New Zealand.
[Message in] Sea Slug Forum.
Australian Museum, Sydney. Available from http://www.seaslugforum.net/find/10615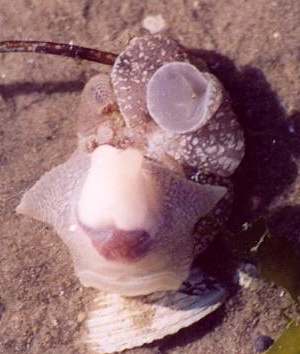 Dear paul,
Thanks for the observations. Firstly for those from strange places that don't know about rugby, Paul's study area of 'about 3 rugby fields' would be approximately 100m x 210m in total. The nature of the damage seems to fit your suggestion of starfish damage. From my knowledge, species of Cominella are more likely to be carrion feeders, often found clustered around dead carcases. I have never heard of the possible defensive postures your describe but perhaps someone who has worked on behaviour on Pleurobranchaea might have some information.
Concerning crawling upside on the surface of the water, this is quite a common behaviour of many snails and opisthobranchs, both in aquaria and pools at low tide.
Best wishes,
Bill Rudman
Rudman, W.B., 2003 (Aug 3). Comment on
Pleurobranchaea maculata
from New Zealand by Paul Furneaux.
[Message in] Sea Slug Forum.
Australian Museum, Sydney. Available from http://www.seaslugforum.net/find/10615
---
Factsheet