March 30, 2006
From: Peter Whiter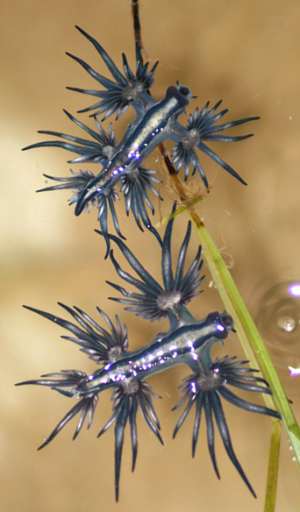 Concerning message #16189:
As it gets close to 48hrs, I feel the need to give an update on the Glaucus atlanticus in captivity at Eden.
Firstly - interesting news, Since looking further into the Forum Anna is now sure that the first little one was infact a Glaucilla marginata (sorry for the mislead, and yes Bill if you so desire, fix my first post).
As noted before the largest one ate the smallest one, leaving 3, the next smallest (22 mm) eventually died, I would say as Bill noted due to the Surf prior to standing and being stranded for who knows how long. Yesterday a trip to the beach got a few Physalia and the remaining two have been tucking into one (each) of these this morning. Anna is looking after them and I'm trying not to interfere. We both thing maybe a water change (30 - 50 %) today or tomorrow.
Locality: Pambula Beach FSC, NSW, Australia, 27 March 2006, stranded on beach not quite storm seas .....but close. Length: 15, 22, 29, 35 mm. Photographer: Peter Whiter
But at this stage they look fine (well as fine as we think they are fine, movement and they are SURE attached to the Physalia )
We were a little concerned about the Physalia being dead in the tank so after they left them alone and not being able to see just how much they have eaten of the Physalia we removed 2 of the 4 Physalia out of the tank. later the Glaucus were found attached mouth-to-mouth with both Penis out, who knows about damage but were sort of easy to seperate (tho it was IMPOSSIBLE to separate the large one from the Glaucilla). Some hours later Anna being worried about how much they had (not) eaten and the fact that they could eat each other, decided to give them a piece of her Goldfish food (yes I freaked at this news too). One of the Glaucus was very receptive caught the food in its parapodia and worked its self to get the food to its mouth (yay) in a rather aggresive manner. The other not so aggresive in its manouvers and when it got the food to its mouth it didn't seem to eat it (guess we need to try a dif  brand) and went back to standard "glaucuring".
Time will tell
Pete
peter.whiter@gmail.com
Whiter P.A., 2006 (Mar 30) Re: Cannibalism in
Glaucus
?.
[Message in] Sea Slug Forum.
Australian Museum, Sydney. Available from http://www.seaslugforum.net/find/16195
Dear Pete,
Thanks for keeping up to date on your glaucids. If they start eating goldfish food you could be on to a winner but I would be very surprised if they do. They are amazing animals, perfectly adapted for living their lives floating in the open sea. I guess you will have found the photos of their egg strings. Since there are no hard surfaces around to lay a normal egg ribbon on they produce these short straight egg strings which can float around until the larvae hatch out.
Best wishes,
Bill Rudman
Rudman, W.B., 2006 (Mar 30). Comment on Re: Cannibalism in
Glaucus
? by Peter Whiter.
[Message in] Sea Slug Forum.
Australian Museum, Sydney. Available from http://www.seaslugforum.net/find/16195
---
Factsheet