May 9, 2006
From: Richard Wilsher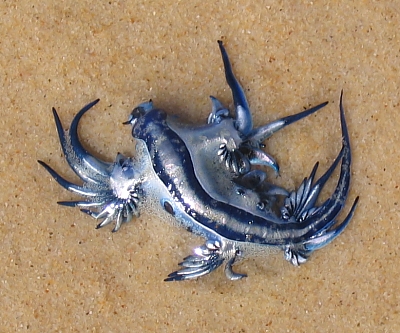 I would be grateful for any identification of the attached creature. I am a lay-person in this field but my lay-interest suggests this may be a free-swimming sea slug. An expert opinion would be much appreciated.
Locality: Fraser Island, eastern (ocean) shore, beach, QLD, AU, Pacific, 25 April 2006, washed ashore, numerous (one approx every 5 m). Length: 20 - 30 mm (specimens varied). Photographer: Richard Wilsher
Note - since your site is presumably of international significance I recommend use of the international date format as defined in ISO 8601, ccyy-mm-dd. This is used significantly and increasingly within scientific and industrial sectors
Many thanks,
RGW.
RichardG@Wilsher.net
Wilsher, R. G., 2006 (May 9) Unknown creature from Fraser Island, Queensland.
[Message in] Sea Slug Forum.
Australian Museum, Sydney. Available from http://www.seaslugforum.net/find/16552
Dear Richard,
This is indeed an 'oceanic' nudibranch, but as you will see from Irina Roginskaya's message [#16534] she has raised the question of just how we should categorise its lifestyle - is it free swimming, free-floating, pelagic, or planktonic?  I guess it depends on how important we consider its attempts at  locomotion. I should mention it is a specialised aeolid, Glaucus atlanticus. If you look at the Fact Sheet, and the other relevant messages attached below, you should find plenty of information on the species.
Concerning your comment about the date. The Forum now receives approximately 250,000 visits a month from over 130 countries, so yes I think the site is of international significance. Your message from Australia and Irina's from Russia on the same subject illustrates the point quite well.
Concerning standardisation of date citation. I am all in favour of standardising dates, but while computers can be easily trained to 'know' how to interpret a set of numbers in a certain order, I am afraid people can't or won't. Until the proud - I won't say insular - citizens of the USA accept metrication, and get their day and month in the right order, any attempt at having an international standard for dates and measures won't work. So my aim is to have a standard date citation that can be understood worldwide. That is why I ask for the month to be a word not a number. Then at least if the day/month order is wrong the date is still intelligible. Most people put the year at the end of any date citation so that's what I ask. I quite understand that computer programs prefer the year first so they can sort data by year, but people don't need that facility. I can certainly interpret your suggested ISO standard 2006-04-25 as 25 April 2006, but what about 2006-04-03? I am afraid it will be interpreted by some of the world as 4 March 2006 and some as 3 April 2006. I suppose we could all have a fridge magnet with a list of ISO standards but I am afraid on my fridge it would be lost amongst the ones telling me which garbage bin goes out on Wednesday, the ones with phone numbers for emergency trademen, some funny political ones, etc.

I should say thank you to all of you who are putting the date information in the manner I have asked. It makes it easier for me and prevents confusion.
Best wishes,
Bill Rudman
Rudman, W.B., 2006 (May 9). Comment on Unknown creature from Fraser Island, Queensland by Richard Wilsher.
[Message in] Sea Slug Forum.
Australian Museum, Sydney. Available from http://www.seaslugforum.net/find/16552
---
Factsheet