March 31, 1999
From: Ross Armstrong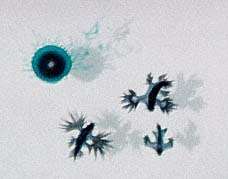 Hi Bill
I sent a copy of your comments off to Bill and Lynda West and they really appreciated the information you provided.
They have also sent me more information about the siphonophore they fed the Glaucus on and would like your thoughts on it:
"The siphonophore was slightly different to what Bill Rudman described.  It is a round flattened disc, with a wafer thin but very flexible transparent scale on its top.  Around the outer edge is a deep blue coloured mantle, which can be up to 2mm in width in the larger specimens.  On the under side of the mantle hang 4-5mm long polyps which look like miniature strings of bluish green beads when put against a white background."
"The underside of the main body of the siphonophore contained a mass of very small blue polyps, not long tentacles as mentioned and the centre polyps were white.  This white area was circular, ranging roughly from 0.5mm to 5mm on the large ones.  The pattern was the same on every specimen we found."
"Another thing we noted was that when one was placed on bare skin, i.e. the palm of a hand, it would cause the skin to itch in the area that came in contact with the polyps.  We wonder if this could have caused the itching
that many swimmers have complained about this summer."
Any ideas on what it is?  I have attached a photo they sent to me.
Kind regards
Ross Armstrong
Ross@northpower.co.nz
Armstrong, R., 1999 (Mar 31)
Glaucus
&
Porpita
in New Zealand.
[Message in] Sea Slug Forum.
Australian Museum, Sydney. Available from http://www.seaslugforum.net/find/738
Dear Ross,
I'm afraid I didn't do a very good job describing Porpita in my reply to your earlier message. Bill & Lynda's excellent photo is clearly of Porpita pacifica. It has a thin transparent circular disc, as they describe, to which is attached the 'colonial' body. The deep blue part of the animal extends out around the edge when the animal is fully extended in the water. Unlike Velella, Porpita does not have a vertical sail on its disc. Around the edge the tentacles are relatively long and have bead-like structures packed with nematocysts (stinging cells). The white region in the centre is one very modified polyp which acts as the mouth and stomach of the colony. This differs from Physalia which has multiple mouths.
It is possible that Porpita could cause bather's itch, but as it normally lives in association with Physalia and Glaucus, cases of itches which occur when they are not around are likely to be caused by something else. Often bathers itch is caused by one stage in the lifecycle of a parasitic flatworm. These worms have complicated lifecycles with one stage living in snails or bivalves and a second stage living in a vertebrate, often a bird or fish. Sometimes when the larval parasite leaves their snail host and is swimming around looking for the bird or fish it normally infests, they find a swimming human to bore into. They die from their mistake but cause a severe itch in the process.
Please pass on my thanks for the photo and the information.
Best wishes,
Bill Rudman.
Rudman, W.B., 1999 (Mar 31). Comment on
Glaucus
&
Porpita
in New Zealand by Ross Armstrong.
[Message in] Sea Slug Forum.
Australian Museum, Sydney. Available from http://www.seaslugforum.net/find/738
---
Factsheet