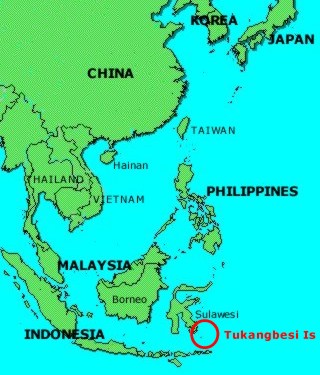 Indonesia - Operation Wallacea

Operation Wallacea is a biodiversity project based on Pulau Hoga Island, part of the Tukangbesi archipelago, SE Sulawesi, Indonesia. Further information on the project can be found in earlier messages from Lindsay Warren listed here and posted below, and at their website (http://www.operationwallacea.win-uk.net ). Lindsay Warren is identifying the nudibranchs found during the survey work.
Earlier Messages (1998):
April 22 - Hypselodoris from SE Sulawesi
April 22 - Nembrotha from SE Sulawesi
April 22 - Re: Found in Indonesia
April 9 - Possible Dendronotus?
April 8 - Found in Indonesia
April 8 - Found in Indonesia
April 4 - Striped Chromodoris roboi?
March 30 - Re: Possible Glossodoris
March 28 - Possible Glossodoris
---
Related messages
October 13, 1999
From: Richard Smith
Dear Bill,
I don't know if you remember but I wrote to you at the end of last year after spending 8 weeks with Operation Wallacea where I found a dozen or so unidentifieds. I went out there again this year for a further 8 weeks. My only job this time was to look for nudibranchs, and I found about 30 unidentifieds this time round. Some interesting things I found was a group of 5 or so Ilbia mariana, one of which I found last year, and you identified as being previously known only from Guam. I also found a Trapania toddi and various other species I'm sure you'll be seeing soon.
Richard
richis2000@hotmail.com
Smith, R., 1999 (Oct 13) Operation Wallacea - progress report.
[Message in] Sea Slug Forum.
Australian Museum, Sydney. Available from http://www.seaslugforum.net/find/1414
Dear Richard,
I look forward to seeing your finds, not just the unidentified, but any you think would be of interest.
Best wishes,
Bill Rudman.
---
March 3, 1999
From: Tim Coles
Our ref: TC/plm1394
Dear Colleague
MARINE SCIENTIST POST MAY - DECEMBER 1999
SULAWESI, INDONESIA
We are looking for a Marine Scientist to join a survey of the Wakatobi Marine National Park in South East Sulawesi for a 6 month contract and I am writing to see if you know of anyone who might be interested in this post.
Operation Wallacea is a not-for-profit project in South East Sulawesi where paying volunteers have joined biologists to help complete species surveys of a newly created Marine National Park. A list of the project's achievements is enclosed which includes winning the Best Conservation Project in South East Asia Award in 1998 from ASEANTA. Further details of the projects that are being carried out by Operation Wallacea can be found at our website at http://www.operationwallacea.win-uk.net/.
We are looking for a qualified marine scientist with experience in Indo Pacific reefs to direct the marine science programme for 1999. The objectives of the programme are:
* to complete an interim review of the Opisthobranch fauna of the Wakatobi Marine
National Park. A year's worth of data has already been collected from the area and 170 species recorded. An outline for a paper which it is proposed to produce by April 2000 on the Opisthobranch fauna is enclosed.
* to complete surveys of the Chaetodontid species around the National Park.
* to compete surveys of the anemone fish and their host species around the National Park.
* to continue compiling species lists and photographs for species in various groups (eg sponges, tunicates, other fish groups).
Groups of volunteers (mostly final year undergraduates or MSc students)will join the project over the contract period and will need to be trained to identify the particular target groups (eg 2 or 3 Opisthobranch families) being studied at the time of their visit. The marine scientist will have to run a training programme and test the volunteers and once they are competent enable them to participate in distributional, abundance and other surveys for the study group. At the end of each week the target group being studied will change to a new group (eg butterflyfish) so that volunteers at the marine base will help survey a range of different organisms during their stay. Surveys will be conducted partly by diving
and partly by snorkelling and during July and August a dive ship (sleeps 15) will be available to take groups of volunteers on expeditions to more remote parts of the archipelago.
The Marine Scientist will be based on Hoga island in the Wakatobi Marine National Park and will have the support of two Assistant Scientists during the busy part of the season (June - September). The diving safety will be looked after by Dive Instructors and the operation of the expedition base, maintenance of equipment, management of local staff, etc will be carried out by the Expedition Manager. At busy times of year there will also be a photographer on site to record the species being studied and organise
photographic development.
The duties of the Marine Scientist would be:
· To agree the work programme for the 1999 marine species survey on Hoga with the Operation Wallacea Project Director before commencement of the surveys.
· To organise and direct the marine species surveys in Indonesia for Operation Wallacea
· To train new volunteer divers in how to identify the target groups for study and provide assistance to them with the survey work.
· To give background lectures on Indo Pacific coral reef eco-systems and their conservation to volunteer groups.
· To ensure that species data are recorded accurately by organising quality control checks on the volunteer-gathered data.
· To liaise with students preparing research papers on the Opisthobranch, Chaeotodontid and Serranid fauna of the Wakatobi for later publication.
· To carry out such other duties on Operation Wallacea as may be required from time to time to ensure the efficient operation of the project.
If you do know of anyone who might be interested I would be grateful if you
would get them to email me by 24 March 1999.
Thanks for your help.
Dr Tim Coles
Project Director
tcoles@ecosurveys.win-uk.net
Coles, T., 1999 (Mar 3) A job vacancy at Operation Wallacea.
[Message in] Sea Slug Forum.
Australian Museum, Sydney. Available from http://www.seaslugforum.net/find/631
Tim tells me this is a paid position (salary dependent on experience) and living and transport costs will be covered.
Bill Rudman.
---
December 9, 1998
From: Richard Smith
Dear Dr Rudman,
I thought I would just drop you a line, although I'm not sure if this is the right place to do it, as I have just returned from a 8 week stint with Operation Wallacea on Hoga Island.I caught the nudibranch bug and whilst I was there saw a total of 70 species 13 of which were OWN numbers so I suspect you will be seeing their pictures in due course. Everyones favorite was a 3mm aeolid a Cuthona sp or Flabellina it had many cera which were dark brown/grey and they had reflecting speckles like tinsel all over they were reds and green and blue it was really beautifull. I am currently on a gap year before university to study zoology and would thoroghly recommend the project to anyone and the enthusiasm of the science people is what really got me interested in the nudis.
Richard Smith
trebos@aol.com
Smith, R., 1998 (Dec 9) Operation Wallacea.
[Message in] Sea Slug Forum.
Australian Museum, Sydney. Available from http://www.seaslugforum.net/find/370
Thanks for the message Richard. Any one interested should have a look at the Operation Wallacea website for details. I look forward to posting the pictures on the Forum in due course .. Bill Rudman.
---
November 29, 1998
From: Lindsay Warren
Dear Bill
Many thanks for posting your comments on the Chromodorids I sent through and also a big thank you for creating a separate page with all our finds to be listed. Monica will be thrilled to hear of this - I sent her a note with one of the volunteers who went to Pulau Hoga last Friday so she should have had a copy of your email by now.   I will email you as full a list as possible of all those we have found and identified to date and will gradually, but hopefully without too much delay, email scans of the pictures.
Unfortunately I wasn't able to printout your posted comments in time to include with my letter to her but am building up a batch which will go out on 3 December.
Apologies for not getting back to you sooner but it seems that the last few days have been the most popular ones for friends coming to London, including Bernard Picton and Christine Morrow.  Unfortunately due to my car breaking down and their other commitments while in London, we weren't able to spend much time together but Bernard was delighted to hear of all your help.
Today I have attached pictures of several more Chromodorids. If you have any problems with the photos please let me know - they were scanned in at a larger size but I reduced them to send to you.
Once again, many thanks for all your help and your interest.
With best wishes
Lindsay
100014.2112@compuserve.com
Warren, L., 1998 (Nov 29) More from Operation Wallacea.
[Message in] Sea Slug Forum.
Australian Museum, Sydney. Available from http://www.seaslugforum.net/find/339
Dear Lindsay,
I will post the pictures up separately in the next week. It would be useful to have a little information to accompany each photo. Either a date and collection number, even if not detailed locality data. As a museum taxonomist I know how important it is to tie pictures to actual specimens and/or data.
Your pictures include:
Chromodoris willani
Chromodoris strigata
Cheers
Bill.
Rudman, W.B., 1998 (Nov 29). Comment on More from Operation Wallacea by Lindsay Warren.
[Message in] Sea Slug Forum.
Australian Museum, Sydney. Available from http://www.seaslugforum.net/find/339
---
November 19, 1998
From: Lindsay Warren
Dear Bill
Have just returned from three months once again working with Operation Wallacea on Pulau Hoga in the Tukang Besi Islands off SE Sulawesi, Indonesia.  While there, we made contact with Dave Behrens who told us about your major 'dissection'. Unfortunately our computer crashed in no uncertain terms and we were unable to send you our best wishes for a speedy recovery at the time.  So now I am happy to be able to do so and hear that you are making excellent progress - wonderful news!
To help you while away your recovery time, I thought you might like to receive photos of additional specimens found, photographed and preserved this year.  There are quite a number but I don't propose to send them all to you and then again, not all at once! Dave Behrens has also kindly offered to assist in identifying specimens and I have just send him some to check out.  At present we are unable to take specimens outside the park boundaries but this should be rectified soon.  In the meantime, I thought it might be possible to clear up some of the 'mysteries' via photos.  We have some 60 unidentified specimens, many of which are Chromodorids and I will send these to you for your comments given your expertise in this and other groups if that is OK by you. 
At the moment, I do not have the full details of surfaces on which they were found although this is on record on the island.  I will be asking for copies of these to be sent to me so that I can give a more complete picture.
Please find attached:
pic1 - the left one probably a Chromodoris elisabethina and the right one possibly a Ch. annae.
pic2- another Chromodorid with the 'grainy' blue of an C. annae but with additional black markings along the dorsum.
pic3 - another variant with a base of white, strong black markings and blotches of blue along the notum; orange mantle with thin white edge.
pic4 - overall pale blue / grey base, brilliant white edge to mantle, black lines and patches with orange rhinophores and gills.
We have found many specimens with varying colour patterns which seem related to either Ch. annae or C. elisabethena and I will forward these to you as soon as they have been scanned in.
We have built up a good base of opisthobranchs just around the small island of Pulau Hoga and from a couple of locations on nearby Pulau Kaledupa - over 160 to date.  Other work this year has been the detailed descriptions of sponges, tunicates and the start of cataloguing fish species groups and mollusca.  The science side of Operation Wallacea is co-ordinated by Dr Monica Sullivan who spends most of her time on Pulau Hoga and is assisted at different times by other staff and volunteers. Now that I am back in the UK, my task is to try to identify opisthobranch specimens we have not been able to identify via the books we have on the island.  I have checked through all the postings on your excellent Slug Forum since the end of July (when I left for Hoga) and am currently going through those posted on Mike Miller's Slug Site and Bob Bolland's Okinawa Slug Site. 
Many thanks for your help and all good wishes for an even faster recovery.
Lindsay Warren
75 Netherwood Road,
London W14 0BP
Tel: 44+171 602 1925 / 602 6333,
Fax: 44+171 602 8539
100014.2112@compuserve.com
Warren, L., 1998 (Nov 19) Opisthobranchs from SE Sulawesi, Indonesia.
[Message in] Sea Slug Forum.
Australian Museum, Sydney. Available from http://www.seaslugforum.net/find/315
Dear Lindsay,
Thanks for your best wishes. I am glad I am in a better state after my dissection than I tend to leave the animals I cut up!
Thanks also for the pictures. I am a happy to put any you have on the site as it would be very helpful for our Indonesian colleagues who don't have access to much of the older literature. I have set up a separate page to list all your finds. I have also split up your photos into 5 separate messages just so the pics end up with the relevant species.
In brief:
Pic1 does have Chromodoris elisabethina and Chromodoris annae.
Pic2 is, I think, a form of Chromodoris annae.
Pic3 is Chromodoris strigata.
Pic4 falls into the colour range of Chromodoris dianae.
I have longer comments on the relevant species pages.
Keep up the good work,
Best wishes,
Bill Rudman.
Rudman, W.B., 1998 (Nov 19). Comment on Opisthobranchs from SE Sulawesi, Indonesia by Lindsay Warren.
[Message in] Sea Slug Forum.
Australian Museum, Sydney. Available from http://www.seaslugforum.net/find/315
---