November 27, 2008
From: Cory Pittman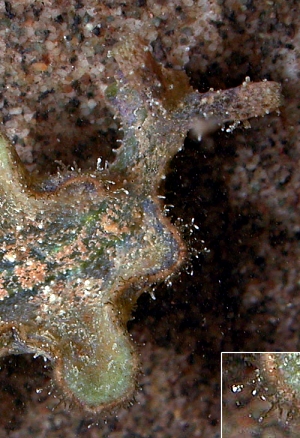 Concerning message #22036:
Dear Bill,
I've spent a lot of time in Hawaii and have kept Elysia tomentosa alive for several weeks on a number of occasions, feeding them on various Caulerpa spp.
On three occasions, I've held relatively "hairy" animals for several weeks with food but under fairly low light. In all three cases, they changed from having long, slender branching papillae with branches of the digestive gland in their centers to having low, conical unbranched papillae that lacked visible branches of the digestive gland. The attached photos illustrate this. The first is of a 14 mm animal taken shortly after capture on June 7, 2005. The second is of the same animal on July 18, 2005. It was fed intermittently with Caulerpa but didn't increase in length over that period. Since the initial and end states roughly cover the range of variation seen in the field in Hawaii, the ability of single individuals to switch between the two (in at least one direction) would probably argue against using the degree of "hairiness" to split the species. Of course, I'm by no means certain that it won't be found to be a complex based on other traits...
Locality: Hekili Point, Maui, 1 m, Hawaii, USA, Pacific, 7 June 2005, back reef. Length: 14 mm. Photographer: Cory Pittman.
By the way, Pauline and I have our site on-line now so, if I may be permitted a bit of "shameless promotion," you can see more photos of Hawaiian E. tomentosa at: http://seaslugsofhawaii.com/species/Elysia-tomentosa-a.html
Also, two other suggestions regarding photos of E. tomentosa on the forum:
To me, it seems likely that Elysia sp. #3 is a juvenile E. tomentosa.
Meanwhile, I think Jun Imamoto's photo (message #10564 ) probably falls outside the "E. tomentosa complex." That species has relatively thick parapodia that form long, narrow lobes with in-rolled margins. It also has relatively thick rhinophores, no marginal lines and evenly scattered, dark green flecks. She has photos of two more animals on her site (in addition to the ones she sent you)--shots 12, 13, 14, 31, 32, 33 & 36 (juv.) at: http://www.umiushi.info/kanri/photo_sql_eng.php?act=PSP&gakumei1=Elysia&gakumei2=cf.+tomentosa&location_code=0000
We also have it from Hawaii: http://seaslugsofhawaii.com/species/Elysia-sp5-a.html
I hope this will be of interest.
Best wishes,
Cory
cory@cet.com
Pittman, C. C., 2008 (Nov 27) Re: A very hairy
Elysia
.
[Message in] Sea Slug Forum.
Australian Museum, Sydney. Available from http://www.seaslugforum.net/find/22052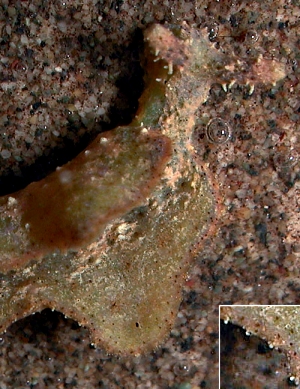 Dear Cory,
This is a very interesting observation. I suspected the branching gill-like papillae were retractile because they seem to be there sometimes and not at other times, but I must admit your onservation that they are apparently reabsorbed, makes using 'hairiness'  as a character  a rather risky businesss.  Obviously the presence of 'hairiness' could still be a useful identifier, but we couldn't use the absence of 'hairiness' to exclude an animal from being E. tomentosa. It would seem that the pink parapodial border may be a useful character. It is certainly present in your animals. One of the reasons I hesitated with Brian Mayes' animals [message #22036] was that they lacked any sign of pink along the parapodial edge.
Concerning Elysia sp. 3. That is another interesting suggestion. Although it a much deeper green than other photos we have, it has a pinkish edge to the parapodia, and the blue spot on its 'neck' links it to some other photos of animals with branched papillae and a pink border to the parapodia such as in Jun Imamoto's message #10567.
Concerning the animal in Jun Imamoto's message #10564, as I commented at the time, I also think it is not the same species as those in the other messages sent at that time.
If all these are indeed one species, it looks as though none of the characters mentioned  ['hairiness', blue spot on neck, pink parapodial border] are always present. Interestingly in Jun Imamoto's message #10567 I list these three characters - and a few more - and suggest they could define a species - but may not always be present. This is a bit awkward, but if it does turn out to be so, then this is a very good example of why looking at many specimens can be a very valuable activity. When I get a moment I will have to see just how many of the animals I presently have as Elysia cf tomentosa fit this broader concept of E. tomentosa.
Aside from the identification question, I was excited by your suggestion that the branching papillae contained digestive gland ducts. This suggests that as well as any camouflage function, the papillae are involved with the feeding physiology of the animal and perhaps even the 'farming' of chloroplasts. Your mention of keeping them in low light conditions reminds me of keeping the strange coral-feeding nudibranch Pinufius rebus in the dark [see Fact Sheet] to see what happened to it and its symbiotic zooxanthellae, only to find after a week that all its mantle papillae had been reabsorbed and the zooxanthellae ejected. Perhaps the loss of papillae in your animals was similarly related to unsatisfactory low light conditions for their captive chloroplasts. Certainly an interesting co-incidence which would be worth following up.
Best wishes,
Bill Rudman
Rudman, W.B., 2008 (Nov 27). Comment on Re: A very hairy
Elysia
by Cory Pittman.
[Message in] Sea Slug Forum.
Australian Museum, Sydney. Available from http://www.seaslugforum.net/find/22052
---
Factsheet