April 8, 2002
From: Scott Johnson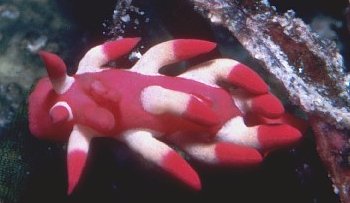 Hi Bill,
Concerning your comments on my earlier photos of 'Hopkinsia' from the Marshall Ids, I haven't come to any definite conclusions on whether I have one or two species. Looking back through my records, most of my specimens came from Kwajalein Atoll. On one occasion in 1983, I found 3 specimens on a single bryozoan at Enewetak atoll. At the time, I figured they were all the same and I'm still inclined to believe that.
I've sent most of the pictures I have in several different messages. I have renamed them so that the Enewetak and Kwajalein specimens are separate. Attached to this message are two shots taken at Enewetak to join the earlier one I sent which you suggested might be Sakishimaia kondoi. The lower photo in this message is obviously the same individual as in that earlier photo. These were all small. My notes on the Enewetak specimens say that two measured 7mm and one was 3mm in length. I suspect, although I cannot be sure, that the apparent narrowness of the animal in the earlier photo has to do with the fact that it's foot in the front appears to be folded back on itself. Notice how the foot is used to wrap around the bryozoan in a photo from Kwajalein I am sending in a separate message.
As for the bryozoan, while I again cannot be certain, I believe they are the same in both places. The one at Kwajalein looks "fuzzier" but I think that is growth and debris on the bryozoan. The Enewetak specimens were found at a place called the Cement Ship Pinnacle, a pinnacle reef set just in the lagoon from the atoll's single deep-water pass. We could dive there only at slack tide due to the raging currents that swept over the reef. This may have kept the bryozoan "cleaner." At Kwajalein, on the other hand, all the animals have been found on two or three lagoon pinnacles in much quieter water, well out into the lagoon and far from any passes. Further, these are more or less downwind of an island named Ebeye, where 14000 Marshallese live on an island that is maybe as much as a couple of km long and a few hundred meters wide. Very crowded with lots of stuff going into the water all the time. I ride a plane to work every day to an island in the northern part of the atoll, and there are always plumes of slick-surfaced water extending from Ebeye. Perhaps this allows more crud to settle or grow on the bryozoan colonies here.
If my records are correct, I sent my specimens of this beast, both from Kwajalein and Enewetak, to Terry Gosliner at the California Academy of Sciences. Here is a copy of my notes on the species:
=========================
E170 Okenia hot pink
Body: small firm, limaciform, no obvious mantle margin. Thin foot margin, long tail. 4-5 pair of elongate simple (rarely bifid) papillae (largest specimens sometimes have 3 instead of 2 in a "pair"). 1st pair anterior to rhinophores, 2nd lateral to rhinophores, 4th even with gills. Color: hot pink, more translucent on foot. Papillae sprout from white to yellow circular patches on dorsum, lower 1/2 of papillae pale yellow, upper half even hotter pink than body. Rhinophores: peduncle hot pink, club with 20-25 hotter pink lamellae, hotter pink nipple like tip. Gills: 3 pinnate pink stalks in semicircle anterior to anus. Always found on reddish pink bryozoan.
• 6/18/82 R-Buoy Pinnacle, Kwajalein Atoll; on bryozoan in cave, 15m, Scott
Johnson
• 6/22/82 several spec, all small; R Buoy Pinnacle, Kwajalein Atoll; on bryozoan in caves at night, 10-15m, Scott Johnson
• 6/5/83 w/bryozoan
• 8/21/83 7x1,7x1.5,3x.75mm; Cement Ship Pinnacle, Enewetak Atoll; in ledge on
bryozoan, 25m, Scott Johnson
• 9/15/90 4-9mm; R-Buoy Pinnacle, Kwajalein Atoll, in ledges at night on
bryozoan at night, 10-20m, Jeanette Johnson (7 spec)
=================
I'll send the Kwajalein photos separately.
Scott
johnson@kmr.ll.mit.edu
Johnson, Scott, 2002 (Apr 8)
Hopkinsia
from Enewatak Atoll.
[Message in] Sea Slug Forum.
Australian Museum, Sydney. Available from http://www.seaslugforum.net/find/6419
Dear Scott,
Thanks for all the extra information/photos in this and the accompanying messages. I guess these puzzles arise when new species are described from very few specimens. If the species consistenty have 4 and 5 pairs of lateral appendages then you seem to have both species, but we obviously need to look at a growth series to see if Hopkinsia nakamotoensis increases the number of pairs of lateral appendages as it increases in size. I suspect the two animals in these photos are the two species, Hopkinsia nakamotoensis in the upper photo and Sakishimaia kondoi in the lower, but as you suggest we really need to look at their anatomy.
The phenomenon you mention about some animals wrapping their foot around the bryozoan stalk may be a way of distinguishing the two species. If the lower photo here is Sakishimaia kondoi, then perhaps it is unable to wrap its foot around a narrow stalk while H. nakamotoensis can.
Best wishes,
Bill Rudman
Rudman, W.B., 2002 (Apr 8). Comment on
Hopkinsia
from Enewatak Atoll by Scott Johnson.
[Message in] Sea Slug Forum.
Australian Museum, Sydney. Available from http://www.seaslugforum.net/find/6419
---
Factsheet