August 25, 2005
From: Sherri Deaver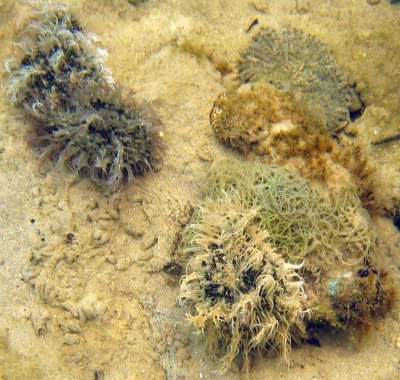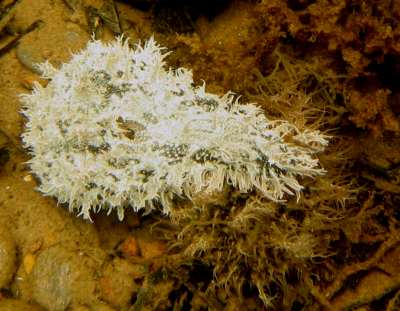 We just returned from a dive/snorkel trip to the NW coast of Trinidad (Caribbean) where we observed a brief but dense aggregation of Bursatella leachii. In six years of diving in this area we had never seen any B. leachii. On 26 July 2005 we saw a single individual. On 27 July we saw another single ragged sea hare at a different dive site. On 28 July we saw hundreds scattered widely in the shallows near shore. Distribution was as singles, in lines of 2-4 and mounds of 4-8 touching individuals. All were seen in the shallows (1-6 ft deep) in green water with sand and rubble bottoms, in the morning between 9-12 am and the water temperature averaged 82 degrees F. None were noted below 6 ft deep. The sea hares varied in color. White, pink, green, brown and greenish gray individuals were noted. On 2 Aug we found many B. leachii (20-40) in one small area at 2-4 ft. deep, but they were totally absent elsewhere. The concentrations noted on 28 July and 2 Aug. occurred at the same dive site. From 3 Aug. to 10 Aug. we dived several sites (including those where we found the concentration on 28 July/2Aug) and saw no sea hares anywhere. Judging from the information on the Sea Slug Forum, we assume we observed a mating aggregation. Does ragged sea hare mating usually occur in aggregation like this or is this unusual? Are they tied to lunar or other temporal cycles? If we ever see such an aggregation again, are there other factors we should be recording? Other photos and exact site locations (lat/longs) can be provided upon request.
Locality:  Muck Dive sites on North shore of Trinidad, West Indies
Tropical Western Atlantic. Depth: 1-6 ft. Length: var., 4-7 inches. 26 July to 2 August 2005. fine sand and rubble, green water. Photographer: Sherri Deaver
Sherri Deaver
ksdeaver1@bresnan.net
Deaver, S, 2005 (Aug 25)
Bursatella leachii
aggregation in Trinidad, West Indies.
[Message in] Sea Slug Forum.
Australian Museum, Sydney. Available from http://www.seaslugforum.net/find/14624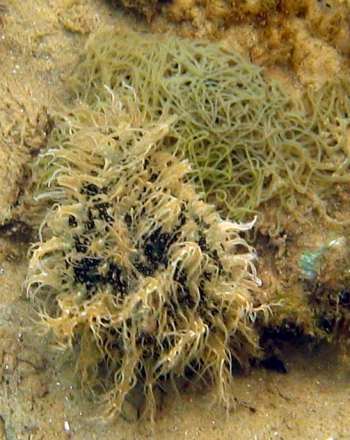 Dear Sherri,
Thanks for this interesting observation. In both your photos there are typical tangled strings of eggs [see close-up alongside] which is certainly evidence they are mating and breeding, but whether we should call this a 'mating aggregation' I am not sure. In the Forum I have a Fact Sheet on mass mortality, which is I think part of the same cycle. My feeling is that sometimes, somewhere, large numbers of veligers settle out of the plankton and meet optimal environmental conditions. In a few weeks they quickly grow to maturity, mate and die. Death can be caused by old age, running out of food, or physical conditions such as excessive heat in shallow water or a bad storm - or a mixture of all these. I have mentioned seeing a huge aggregation like this of Bursatella leachii in New Zealand at a place I visited often. usually there would be a few Bursatella around but only once did I see an aggregation like this.
You ask if they usually aggregate like this for breeding. My feeling is that they don't 'aggregate' in the sense of all assembling in one place for the purpose of breeding. What we see is a whole population which settled out of the plankton as a large group and have all survived together through their life cycle. Other years only a few larvae will settle out of the plankton and in those cases mating will only occur if the few 'settlers' cross paths. The term 'cross paths' is very appropriate because many sea slugs seem to find their partners, and sometimes their prey, by following the mucus trails that are produced as they crawl along the substrate. As you will have read on the Forum these Sea Hare aggregations are a fascinating sight. I guess we can be fortunate they are all herbivorous. It would be a bit devastating if they were like the army ants of Africa and Sth America.
Best wishes,
Bill Rudman
Rudman, W.B., 2005 (Aug 25). Comment on
Bursatella leachii
aggregation in Trinidad, West Indies by Sherri Deaver.
[Message in] Sea Slug Forum.
Australian Museum, Sydney. Available from http://www.seaslugforum.net/find/14624
---
Factsheet