September 10, 2008
From: Colin Ogden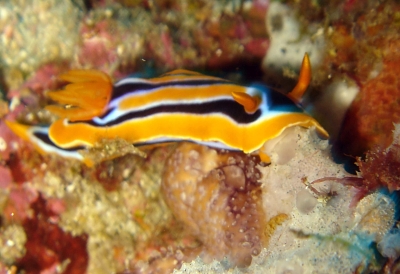 Concerning message #20503:
Hi Bill,
Recently I have been trying to collect some photos of Chromodoris hamiltoni feeding. I have some interesting ones that I would like to share with you. The first photos in this message show it feeding on a grey sponge. [See also messages #21876, #21877, #21878, #21879.]
Locality: Sodwana Bay, 15 metres, South Africa, Indian, 26 Nov 2007, reef. Length: 25 mm. Photographer: Colin Ogden.
Regards,
Colin
scubaco@iafrica.com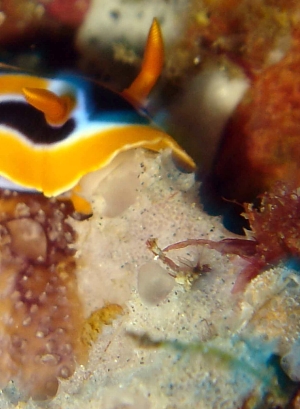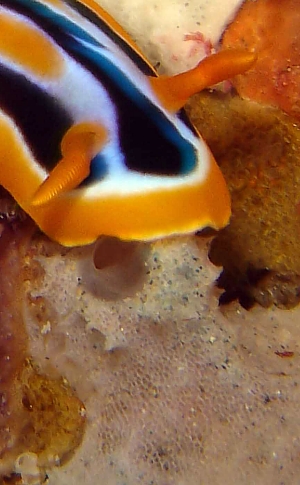 Ogden C. M., 2008 (Sep 10)
Chromodoris hamiltoni
feeding on various sponges.
[Message in] Sea Slug Forum.
Australian Museum, Sydney. Available from http://www.seaslugforum.net/find/21875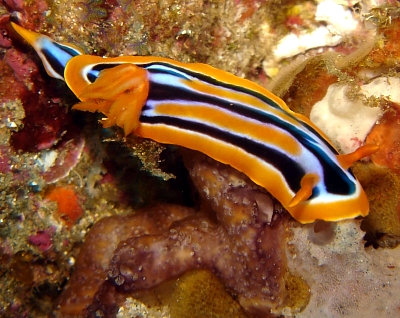 Dear Colin,
Thanks very much for this series of photos. I'll discuss the significance of all these records here rather than spread the story thinly over the other messages. Firstly, the photos in this message show C. hamiltoni feeding on a sponge which clearly includes sand grains in its skeletal structure, which suggests it is either a thorectid or the related family Irciniidae. This seems to be a different species to the greyish black thorectids already reported for this species, so adds to the accumulating knowledge on the biology of this species.
When I published the review on chromodorid feeding last year (Rudman & Bergquist, 2007), the only thing we knew about the food of C. hamiltoni was from a scientific article by Pika & Faulkner (1995) reporting the presence of  chemicals in the skin, and spicules in the stomach, typical of the bright red sponge Latrunculia [which is now considered to be a species of Negombata]. Although this is an unusual sponge for chromodorids to feed on, we now know that a number of similarly coloured species, such as C. quadricolor, also feed on species of Negombata, and also on blackish species of quite unrelated dictyoceratid sponges of the family Thorectidae. It seems this group of chromodorids have chosen these sponges because of the presence of powerful antifeedant molecules called latrunculins, which are found in both sponge groups. In the last year we have had messages to the Forum suggesting C. hamiltoni possibly feeds on another thorectid similar to Phyllospongia [#20503 ] and two messages associating C. hamiltoni with both the red Negombata and a dark grey thorectid, possibly Petrosaspongia or Semitaspongia [messages #20505; 21555]. Your messages confirm feeding on Negombata [#21876], and a dark grey thorectid [#21877; [#21878 ]. In summary, these records of yours are a valuable addition to our knowledge of the natural history of this species.

When the two scientific papers listed below were published, the chemicals found in C. hamiltoni were very puzzling as they did not fit the normal pattern which was emerging for species of Chromodoris. Now that we know that there is a group of species which 'break the rules', evidence such as yours, showing just what sponges are eaten by this nudibranch, are showing us that there is a pattern to their food choice, but it is a little more complicated than we first thought.
McPhail, K. & Davies-Coleman, M.T. (1997) New spongiane diterpenes from the East African Nudibranch Chromodoris hamiltoni. Tetrahedron, 53(13): 4655-4660
Pika, J. & Faulkner, D. J. (1995) Unusual chlorinated Homo-Diterpenes from the South African nudibranch Chromodoris hamiltoni. Tetrahedron, 51, 8189–8198.
Rudman, W. B. & Bergquist, P. R. (2007) A review of feeding specificity in the sponge-feeding Chromodorididae (Nudibranchia: Mollusca). Molluscan Research, 27(2): 60-88.
Best wishes,
Bill Rudman
Rudman, W.B., 2008 (Sep 10). Comment on
Chromodoris hamiltoni
feeding on various sponges by Colin Ogden.
[Message in] Sea Slug Forum.
Australian Museum, Sydney. Available from http://www.seaslugforum.net/find/21875
---
Factsheet