April 28, 2008
From: Colin Ogden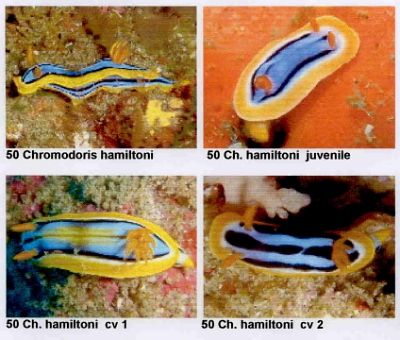 Hi Bill,
Following all the discussion about Chromodoris hamiltoni, I have prepared pictures of all the variations on C. hamiltoni we see here. I have put all the predominantly blue ones on this sheet, and will send a separate message of the orange form [#20569 ].
C. hamiltoni is probably the most often encountered nudi here. In fact on one of our dives today we must have seen at least 40 separate individuals.
The differences are as follows - see names on the photos:
Chromodoris hamiltoni - most consistent form
Ch. hamiltoni juvenile and cv 7 are both juveniles though the middle black line on cv7 is much stronger than on the first juvenile. Both have a pronounced inner white border to their mantle.
cv1 has an orange section surrounded by blue on its mantle.
cv2 has much thicker black markings. (I at first thought it might be a C. strigata, and I still have doubts on it being C. hamiltoni at all but it was slightly smaller that the normal fully grown adult C. hamiltoni )
cv3 has a "washed out" orange border to its mantle.
cv4 has more black lines than normal, and a good white inner ring on its mantle.
cv5 adult with a good white inner ring.
cv6 darker section between the black lines on its back.
cv8 mottled blue on its back.
cf. hamiltoni different colour almost peach colour rather than orange edge to its mantle.
The other 2 are of a melanistic form.
Locality: Sodwana Bay, 10 to 30 metres, South Africa, Indian, various, reef. Length: 10 mm to 50mm. Photographer: Colin Ogden.
Regards
Colin
scubaco@iafrica.com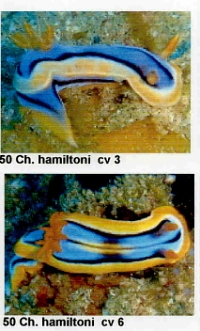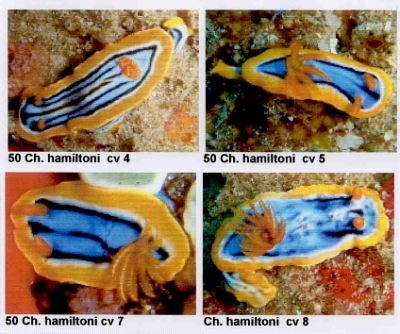 Ogden C.M., 2008 (Apr 28) Variations in
Chromodoris hamiltoni
.
[Message in] Sea Slug Forum.
Australian Museum, Sydney. Available from http://www.seaslugforum.net/find/20568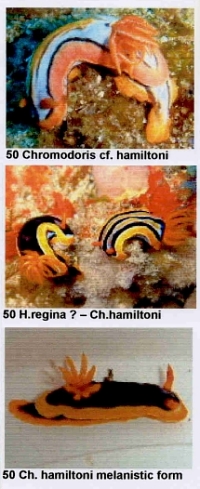 Dear Colin,
Thanks for this comprehensive collection. In Tanzania Chromodoris hamiltoni often had an orange patch in the middle of the back and often the middle part of the black lines were orange instead of black. I also saw animals with the 'peach' coloured border as in your cf. hamiltoni.
I have some doubts about the ones you have doubts with ie; Ch. hamiltoni juvenile, cv 2, cv 7., but I am afraid I can't make any sensible comments other than 'gut feelings' are often worth following up.
Concerning the 'melanistic' ones. I have discussed these previously - and changed my mind [see message #18677]. I initially thought they were melanistic C. hamiltoni but later, on the basis of some other photos from Erwin Koehler, and some on their food sponge, I came to the conclusion they were melanistic Hypselodoris regina. Since we have no actual observations of C. hamiltoni feeding on any sponge I am still open to changing my mind again if you can find 'good' C. hamiltoni feeding on a this dysideid sponge. While most species of Chromodoris feed on darwinellid sponges, C. hamiltoni, in colour at least, belongs to a group of species which shows a rather unusual choice of food sponges. So what I am trying to say I guess is can you look out for C. hamiltoni feeding please. I realise that it is often the most common species which are the most difficult to find feeding - I know that sounds strange but there seems to be some inverse law of nature which says that the more common a species is the more difficult it is to find it 'doing things'.
The only clues I can give you is that Pika & Faulkner (1995) and McPhail & Davies-Coleman (1997) both recorded finding chemicals in C. hamiltoni which are almost certainly from bright red sponges of the genus Negombata.
McPhail, K. & Davies-Coleman, M.T. (1997) New spongiane diterpenes from the East African Nudibranch Chromodoris hamiltoni. Tetrahedron, 53(13): 4655-4660
Pika, J. & Faulkner, D. J. (1995) Unusual chlorinated Homo-Diterpenes from the South African nudibranch Chromodoris hamiltoni. Tetrahedron, 51, 8189–8198.
Best wishes,
Bill Rudman
Rudman, W.B., 2008 (Apr 28). Comment on Variations in
Chromodoris hamiltoni
by Colin Ogden.
[Message in] Sea Slug Forum.
Australian Museum, Sydney. Available from http://www.seaslugforum.net/find/20568
---
Factsheet